A Report from Cannes
30/05/2011
Grażyna Torbicka, the Art Director of the TWO RIVERSIDES, talks about the sensations and controversy at the Cannes festival.

The TWO RIVERSIDES Film and Art Festival had been represented in the Cannes International Festival, the most important European cinematographic competition. An important part of the festival is Marché du Film (lit. Film Market), so in order to select films for the TWO RIVERSIDES earnestly, you have to be there.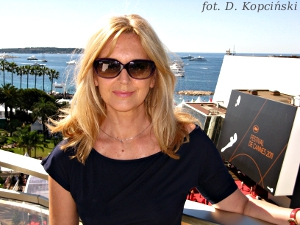 For me, Cannes is twice as important because for fifteen years I have been present there with the "Kocham Kino" ("I Love Cinema") program, produced for TVP2. Moreover, together with our festival's program team  I have been watching films and meeting a number of distributors and producers from all over the world for five years in order to be able to show the films we have chosen to our audience at Two Riversides. It is often the case that we find the films earlier, during the Berlin or Rotterdam festivals, we search for new releases on the Internet, but we always make the final decisions on the French Riviera anyway.

This year's Cannes has been exceptionally interesting. The films that made it into the main competition were heatedly discussed: "Habemus Papam" (directed by Nanni Moretti) – a tragicomedy about the crisis of authority and governmental power with great roles of  Michel Piccoli and Jerzy Stuhr; "Melancholia" (directed by Lars Von Trier) with awarded Kirsten Dunst as a sister whose life falls into pieces; "The Tree of Life" (directed by Terence Malick – Palme d'Or Cannes 2011) with Brad Pitt and Sean Penn; "The Skin I Live In" (directed by Pedro Almodovar) with Antonio Banderas.

Great names competed with films whose authors are not as titled but equally interesting and talented. The best example is Michel Hazanavicius, whose film "The Artist" entered the contest at the last moment and turned out to be the most pleasant surprise of Cannes 2011.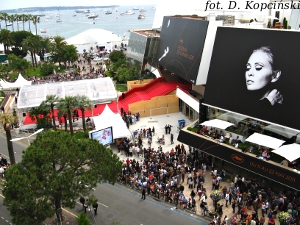 A black-and-white silent film, produced in the style of 30s' cinema, brings back the epoch of transition from silent to sound cinema. Exquisitely produced (many scenes refer to iconographic pictures and figures of cinema history), very well performed (Jean Dujardin – Best Actor Award), very good music and a simple melodramatic intrigue take us to the world of cinema that we miss.

And many other very interesting titles which, I hope, we will be discussing during TWO RIVERSIDES. Some of them will be shown at our festival, and only there. Program details will be given soon.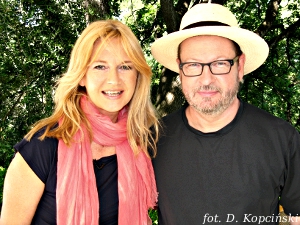 But Cannes 2011 will be remembered as a festival during which Lars Von Trier, like his film's protagonist Justine (Kirsten Dunst), smashed his world into pieces. During the press conference, while playing with words and provoking (which he is famous for) he started very dangerous divagations. The apologies that he made right after the press conference were not enough and the following day Lars Von Trier was  declared persona non grata at the Cannes Festival, which ruined his chances of winning an award, and probably means that his next films will not be presented in this festival. >> WATCH
The day after, I met with Lars Von Trier – the excluded – outside Cannes to talk about the film and about what happened. Here is the full recording of this conversation, together with the report from Cannes >> WATCH

Some of the films shown out of the main competition also caught our attention.

• In the SEMAINE DE LA CRITIQUE section:

"Las Acacias" – directed by Pablo Giorgelli (feature debut), ACID/CCAS award, OFAJ (Very) Young Critic Award & Camera d'Or

• In the QUINZAINE DES REALISATEU section:

"The Other Side Of Sleep" – directed by Rebecca Daly

"The Giants" ("Les Geants") – directed by Bouli Lanners, Art Cinema Award & Prix SACD

"Porfirio" – directed by Alejandro Landes


We invite you to TWO RIVERSIDES, where you will certainly have a chance to watch many titles from Cannes.
Grażyna Torbicka
Art Director of the TWO RIVERSIDES Festival 2011

International Cannes Festival: 11 – 22 of May
www.festival-cannes.com