Let's meet at the TWO RIVERSIDES Festival
04/05/2011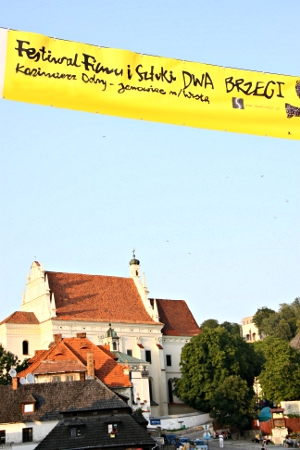 Ladies and Gentlemen,
For the fifth time already I have the pleasure to invite all enthusiasts of good cinema to the Film and Art Festival TWO RIVERSIDES in Kazimierz Dolny and Janowiec by the Vistula River. This edition, like the previous ones, offers a completely original program which we create with the belief that life with art and culture makes us more beautiful.
Year after year, the previous editions of the festival have proven that the audience coming to TWO RIVERSIDES like being surprised and are curious of the world and of other people. We are not a big festival when it comes to the number of screenings, but we guarantee the satisfaction from contact with art and many artists, from leisurely conversations and meetings. SLOW FILMMOOD is something that we really miss in everyday life.
Tried, unchanging sections: "World Under Canvas", "Music – My Love", "In the Short Run", "Great Cinema On Small Marketplace" – in which one can find films chosen in festivals worldwide, feature films and documentaries, often presented in Poland for the first time.
What is new this year is a perspective under the slogan of Viaggio in Italia and the retrospectives of Roberto Rosselini, Liliana Cavani, and the "Literature and the Screen" section will show films based on the books of a Sicilian writer, Leonardo Sciascia.
And one more new, interesting trend that we do not know so well: mockumentaries, films which use the form of a documentary film to tell stories that are not always real… Among them also films from the so-called "found footage" trend.
The musical opening is, for the first time in Poland, a concert of DANIEL MELINGO. This cult artist from Argentina will, together with the band, perform compositions from his last two albums: Santa Milonga and Maldito Tango.
I invite you to the LITTLE GREAT FESTIVAL in Kazimierz and Janowiec from 30th of July to 7th of August.
Grażyna Torbicka
Artistic Director of the Film and Art Festival TWO RIVERSIDES
————————————————————————–
Currently we are going through the preparations' stage and we are working out the program offers and projects. We invite You to visiting FESTIVAL SECTIONS, GUESTS, HOMEPAGE – on our website, where all news can be found.