Opening | Closing Gala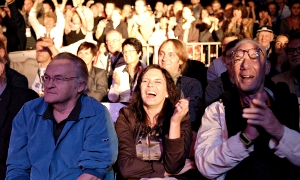 This year's edition of Two Riversides will be opened by the Polish premiere of "The Kid With A Bike," the newest film by the Dardenne brothers, for which they received the Grand Prix at the Cannes Film Festival.
It is not without reason that the brothers are called Cannes' favourites. There are even voices that the duo's popularity is the best proof of how effective the festival's promotion is. We will find out what made the critics call "The Kid With a Bike" a LIITLE-GREAT movie on the 30th of July. We will close the Two Riversides Festival 6th of August with a premiere screening of the movie "NEDs" (directed by Peter Mullan), which has been awarded the Golden Shell at the San Sebastián International Film Festival. The movie has also been given the Silver Shell prize for the best actor (Connor McCarron).
date:
30/07/2011
, time:
16:30
, place:
The Big Cinema
, film program:
Opening | Closing Gala
, artistic program:
films
date:
02/08/2011
, time:
17:30
, place:
The Big Cinema
, artistic program:
films
film program:
the audience poll
,
date:
06/08/2011
, time:
16:30
, place:
The Big Cinema
, film program:
Opening | Closing Gala
, artistic program:
films
film program:
the audience poll
,