HEMAIL – Szamburski | Zakrocki | Wójciński | Szpura
date:
04/08/2011
, time:
21:00
, place:
SARP
, artistic program:
concerts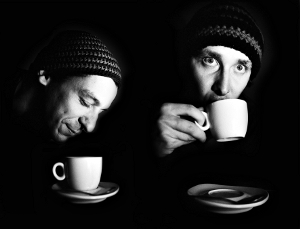 HEMAIL is the famous music duet SzaZa: Szamburski | Zakrocki in cooperation with the best rhythmic section in the universe: Wójciński | Szpura. Another proposal which is to show different faces of music. We want to present artists, who are engaged in projects from many fields of art and music, and use these experiences in their own work; they move freely between the distinctions made between what is classic and what is modern, and thanks to their intensive creative and animatory activity they set one of the main trends of the current music stage.
SzaZa – the Paweł Szamburski | Patryk Zakrocki duet has been active in the scenes of improvisational music and independent art for over 10 years. Their music links extremes: noise and silence, beauty and ugliness, pop, electroacoustic and improvisational music, and modern chamber music. Their concert teeter between improvisational music and performance art.
Paweł Szamburski – Clarinetist, improviser; member of the explorers of auditory wilderness group Horny Trees, founder and leader of the band Meritum, for many years has also been running "Djazzpora", a series of improvisational music concerts. He is also active in Cukunft (traditional Jewish music) and Ircha (improvised music). He cooperates with artists from all over Europe, including Frank London, Raphael Rogiński, Candelaria Saenz Valiente, Tomasz Duda, Macio Moretti, Tomasz Stańko, Mikołaj Trzaska, Wacław Zimpel, Noel Akchote, Michał Górczyński, Hubert Zemler, Maciej Trifonidis Bielawski. He composes film and theatre music. He has been given a distinction for the best film score at the Annecy International Animated Film Festival (France 2009).
Patryk Zakrocki – Composer, improviser, violinist, drummer, sound artist. Taught by Bugusław Shaeffer. He does chamber and electroacoustic music, as well as audio play (in the broad understanding of the term). He has written and recorded 11 albums. Author of film and theatre music, audio plays, and sound installations. Organiser of Galimadjaz, co-founder of the "Sound Invasion" | "Inwazja dźwięku" at the Zachęta Gallery in Warsaw, founder of the  Zakład Produkcji Dźwięku | Sound Production Workshop and Gabinet Masażu Ucha Wewnętrznego | Inner Ear Massage Parlour. Curator at the 2011 European Culture Congress. He has worked with the Improvisers Ensemble, Baaba, Mitch & Mitch, and musicians such as: Tetuzi Akiyama, Raphael Rogiński, Michał Górczyński, Noel Ackchote, Macio Moretti, Hubert Zemler. The music of Patryk Zakrocki received numerous awards and distinctions (Camerimage, Kontrapunkt and Two Theatres festivals, and the International Composers Competition in Poznań), which always gave him shameless pleasure.
Ksawery Wójciński – A versatile artist with a great sensitivity to sound. He is not afraid of experiments.  Acclaimed the Nikifor of the Polish double bass. His interests extend from early music to sophisticated modern improvisational music. He has worked with musicians such as: Mikołaj Trzaska, Michael Zerang, Hans Peter Salentin, Martyna Jakubowicz, Gaba Kulka, Robert Rasz, Wacław Zimpel, Raphael Roginski, Szymon i Maurycy Wójcińscy. He is part of the legendary Emergency Jazz Sextet and the Hera Quartet. He performs in the country and abroad. He is also known for his vocal experiments, reminiscent of artists such as Tom Waits, Frank Zappa, or Freddie Mercury. He is an ever-searching artist.
www.myspace.com/ksawerywojcinski
Paweł Szpura – Drummer known from groups such as Kapishon, Cukunft, Spinalonga and Hera, as well as from his work with Mikołaj Trzaska, Raphael Rogiński, Michał Górczyński and Tomasz Duda. He has taken part in the WSJD, Warsaw Autumn and Mizrach festivals.
Paweł Szamburski – clarinet, mandolin, Patryk Zakrocki – violin, mbira, trumpet-violin, Ksawery Wójciński – double bass, Paweł Szpura – drums