Mięćmierz
An old fishing settlement, today a holiday-resort village right by the Vistula River, 3 km from the centre od Kazimierz Dolny, from where you can get to Mięćmierz by walking along the Vistula bank and over the Albrechtówka mountain, where an observation point for the Vistula gorge is located.

Mięćmierz village can be called a live heritage park: many old peasant huts had been moved here from other places, where they would have been annihilated.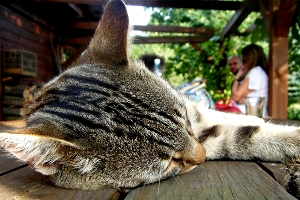 And this happened thanks to the new owners of the estates: artists, intelligentsia from Warsaw and Lublin, who use these houses as chalets and their asylums. Mięćmierz is a magical settlement in the heart of which there is a well covered by a shingle roof, from which field pathways go in four directions of the world. South-west of Mięćmierz the Cow Island is located: a reserve protecting nests of many species of birds.
www.kazimierzdolny.pl
www.galeria.klimaty-kazimierz.pl
>> locations
photo: Alicja Sawicka