NOTHING TO HIDE – Andrzej Bienias | The Words And Sounds Constructors Association
date:
06/08/2011
, time:
21:00
, place:
SARP
, artistic program:
concerts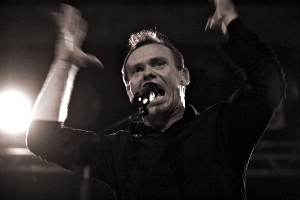 The project was born in the Witkacy Theatre in Zakopane from the immemorial need to experience something new. Unwillingness to play covers made Andrzej Bienias write lyrics which, with music from the rest of the gentlemen, turned into songs that are one of a kind, speaking of ordinary people and their extraordinary longings.

The lyrics, in which satire intertwines with a serious tone, slowly, song after song, draw the listener into the world of "Stefan" and "Murderers By Heart". "He" and "Selfman" have "Plain Dreams" that she "Doesn't Ask" about, even if he starts singing a "Silly Song". And if the "Results of the Morning at Roman's" force him to "Die in Accordance With The Regulations", then as a result of the "Autopsy", seeing his reflection in "Heaven", he will think about "Evolution" and simply start looking at his life differently.

Andrzej Bienias – vocals, guitar, Max Kowalski – double bass, Damian Niewiński – drums, Przemysław Sokół – trumpet, flugelhorn, Grzegorz Palus – accordion.