PICTURES FROM DIFFERENT HOMES – vernissage of Jerzy Czuraj's exhibition
date:
31/07/2011
, time:
12:00
, place:
The Celej House
, artistic program:
exhibitions
| The exhibition will be open until August 28, 2011 | free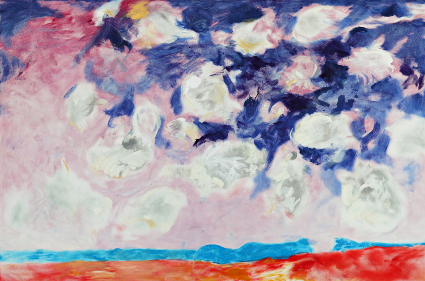 "Pictures from different homes" is a cycle of exhibitions of Jerzy Czuraj's works, localized in places connected with artistic life of this painter and musician. For over 50 years he lived in Suskowola near Pionki. He created art and was engaged in animation of artistic life in his own house, the nearest neighborhood and in centers located in other regions. His personality and art won over many admirers and chance meetings often descended into firm friendship. He was empathic and open to new experiences, in his "Czurajówka" he organized a hospitable place for art and artists, for meetings, sharing ideas and experimenting. He often gave his pictures as tokens of friendship and sympathy and even those that were sold, usually for a symbolic amount of money, were obtained by people close to him. The dispersal of Czuraj's works impeded organization of exhibitions, so he shown pictures painted recently and often used those he had in his house. Retrospective exhibitions were rarely prepared, the biggest one thus far was held in 1997 in the Museum of Contemporary Art, the division of Jacek Malczewski Museum in Radom.

"Pictures from different homes" project was inaugurated on September 1, 2010, in Promotion Gallery, Warsaw. The exposition featured works created over a span of 35 years, borrowed from private collectors and public institutions. It gathered over 300 viewers, which was quite unusual even for the capital city. Subsequent exhibitions were organized in places important for Czuraj: "Interior" Gallery of the Witold Gombrowicz Municipal Public Library in Kielce, where Czuraj spent his childhood and early youth, and the artist's house in Suskowola. Other expositions are planned to be held in the Vistula Museum in Kazimierz Dolny (2011), Mazovian Centre of Contemporary Art "Elektrownia", Radom (September 2011), Test Gallery in Warsaw (October 2011). The organizers also intend to present Czuraj's works in Krakow, Łódź and Lublin (2012).

What is the value of the project? It is mainly the aesthetic dimension and intellectual content of Jerzy Czuraj's painting, which, apart from being oriented and aware of current artistic trends, was for him the most suitable medium for transmission of thoughts and ideas. Moving out of Warsaw and into the province, choosing unused oil technique as means of expression, syncretism, form, all of it attests to Czuraj's artistic attitude and himself as a human being. He left the centre of artistic events of the 1980s and moved into the country, he used language that was rooted in the 19th century and gave it a modern sound. Among the people he admired were contemporary artists and those from more distant epochs. Brought up in coloristic tradition, he remained faithful to it and contributed to the achievements of the Nabis, the Fauves and representatives of the Polish Colourism. He valued the works of Józef Czapski, shared with the Nabis a common interest in music, philosophy, literature and magic and with the Fauves and Kapists the fondness of colour. He constantly highlighted the subordination of matter and form to the overriding role of colour. For years his art was characterized by fascination with everyday life and what is close to us, as well as with the supernatural and divine. Next he touched religious, ethical and philosophical subjects in his paintings, and portrayed seemingly trivial genre scenes. He often reached for the motif of Suskowola fields captured in an unexpected, momentary vision. With a chord of a few hues, he brought out such portrayal of landscape that broke mimetic ways of presenting it. It was not an attempt to depict reality, he just tried to materialize emotions it arouse in him. At different stages in life he reached back to abstract, even monochromatic painting, where the condensation of colour had both emotional and symbolical meaning. He effaced the boundary between abstract and figurative art. By ignoring form and applying visionary colouring, he built his own version of inner and outer world order. His fondness of freedom allowed him to move around the land of colours with latitude. He remained a declared painter, traditional in a way, but acting freely and not allowing to be typecast as unmodern.

The main organizer of "Pictures from different homes" project is Mazovian Centre of Contemporary Art "Elektrownia" in Radom. Wojciech Janik, Mariusz Jończy and Andrzej Mitan are its curators. Mariusz Jończy is also responsible for the arrangement and implementation of the exhibition. As part of the project realization in the Vistula Museum in Kazimierz Dolny, coordinators of the project are Waldemar Odorowski and Paweł Skrzeczkowski. The exhibition is accompanied by Marcin Kossowski's "Hardness of space", a film about Jerzy Czuraj, and music the artist created together with Bobi Peru (Maciej Sinkowski).

JERZY CZURAJ (1952-2009) He studied at the Faculty of Painting at the Academies of Fine Arts in Krakow and in Warsaw, under the academic supervision of professor Marian Buczek and professor Krystyna Łada-Studnicka respectively. He graduated with distinction in 1975 and since then he dealt with painting, music, sculpture and amateur theatre. Between 1979-1980 he cooperated with the Gallery of Contemporary Art in the Old Town Community Centre in Warsaw. In years 1978-1980 he was the chairman of the Youth Circle of the Association of Polish Artists and Designers. His works were exhibited about 30 times during individual and collective exhibitions. He also directed several theatrical productions. His pictures can be found in Mazovian Centre of Contemporary Art "Elektrownia" in Radom, in the Museum of Contemporary Art, the division of Jacek Malczewski Museum in Radom, in Urban Community Centre in Pionki, in many private collections in Poland and around the world. He created about 700 pieces of art, dealt with scenography, jazz music. He collaborated with Andrzej Przybielski, Władysław Jagiełło, Wojciech Czajkowski, Włodzimierz Kiniorski, Helmute Nadolski, Jacek Bieleński, Maciej Sinkowski, and many others.