MIĄŻSZ
date:
01/08/2011
, time:
21:00
, place:
SARP
, artistic program:
concerts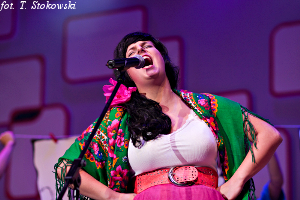 Miąższ (Pulp) – One of the most interesting phenomena of the Polish music scene. A group from Lublin, which freely shifts between genres presenting music from somewhere between folk, cabaret, singer-songwriter, jazz and rock'n'roll. Sparse instrumentarium (guitar, double bass, vocal) bears fruit to surreal climate, variety of sounds and energies.

In the Two Riversides we also want to promote projects that are close to singer-songwriter, and which there are less and less of in the Polish scene. The repertoire of the band results from fascination with Polish folklore (also the city one), which is what makes the group's artistic image original.

Joanna Ewa Zawłocka – vocal, Sebastia Pikula – guitar, Krzysztof Gadzało – double bass
Joanna Ewa Zawłocka – As a high school student she took part in vocal competitions on a regular basis. From about 40 in which she participated, only three times did she come back without the main award. In 2010 she started working with Jacek Kleyff. Currently performs with the Na Zdrowie Orchestra. During her university studies, together with Sebastian Pikula and Krzystof Gadzało she founded the band Miąższ and recorded her debut album.

Krzysztof Gadzało – Ever since he can remember he used to play in punk bands. In 1988 – with the Trawnik group, one of the most important alternative bands in Warsaw. Performed with the Ichmisie band, which played acid jazz and afro beat in the 90s. He then started playing in the blues-funk Iceband. He is then asked to take part in a recording session with Walek Dzedzej, the first Polish punk stage activist. At the beginning of the 21st century he buys his first double bass and founds the Koolor Squad. Plays concerts. Also plays with bands such as Pieczywo, Karmapa, Ziemia Planeta Ludzi, Puch, Żerafał, PKP, Blisko Pola… An then the Miąższ era began.

Sebastian Pikula – Chose the path of a self-taught artist. Fascinated with jazz and improvisational music he came to New York. Apart from height and construction jobs he also played in a potboiler band. Additionally he took part in jam sessions and, when he was out of money, played in the streets and at metro stations. The latter gave him the opportunity to experience the natural and free music of New York. When he came back he started working with Jacek Kleyff and the Na Zdrowie Orchestra.