ZAMACH NA MoCARTA (performance)
date:
31/07/2011
, time:
21:00
, place:
SARP
, film program:
and God created actor. Zbigniew Zamachowski
, artistic program:
theatre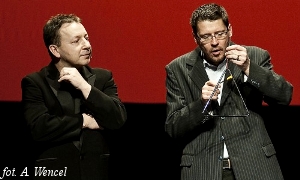 Zbigniew Zamachowski, a brilliant song interpreter, hero of the "And God Created Actor" festival section will per form a choice of songs from his repertoire, by classic authors such as Bulat Okudzhava, Jonasz Kofta, Agnieszka Osiecka, Wojciech Młynarski, Jeremi Przybora, and Jerzy Wasowski, as well as by authors of the younger generation: Tomasz Jachimek, Piotr Bukartyk, and: his own. The MozART Group will perform musical sketches. What will the meeting of a multidimensionally talented actor with a musical comedy string quartet bring? And what is Wojciech Malajkat doing in this group? You will find out at the Two Riversides Festival.
Director and scriptwriter: Krzysztof Jaślar | Musical director: Roman Hudaszek | Performers: Zbigniew Zamachowski, Wojciech Malajkat | The MozART Group – Filip Jaślar, Michał Sikorski, Paweł Kowaluk, Bolek Błaszczyk
Zbigniew Zamachowski – A remarkable theatre and film actor, an exquisite song interpreter and a great pianist, poet and composer. He starred, among others, in the films of Kazimierz Kutz ("Pułkownik Kwiatkowski" | "Colonel Kwiatkowski", "Zawrócony" | "Reverted", "Sława i chwała" | "Fame and Glory"), Krzysztof Kieślowski ("Dekalog X" | "Decalogue X", "Trzy kolory: Biały" | "Three Colours: White"), Andrzej Wajda, Jacek Borowski, Maciej Wojtyszka, Filip Bajon and Wojciech Marczewski. He has been repeatedly awarded in Poland (Wiktors '93 and '96, Złota Kaczka / Golden Duck '93, Berdini Award '97) and abroad.
The MozART Group – a String Quartet with the aspirations of a music cabaret. Since their performance at the 1997 PaKa Comedy Festival the group performs regularly. Some of their awards: Grand Prix at the Biesiady Satyry i Humoru 1997, the 2nd prize at the 1998 and 2000 PaKa Comedy Festival, Grand Prix at the 2002 Festiwal Dobrego Humoru in Tricity. The group also performs classical repertoire and pop music. Often invited to concert halls all over Poland, they play concerts abroad (Germany, Sweden, Slovakia, Lithuania, Ukraine, China, Japan). In 2002 the quartet took part in Bobby McFerrin's concert during the Warsaw Summer Jazz Days. And the year 2010 marks the premiere of their DVD "The best of MozART Group" which is meant for the foreign market.