And God Created Actor. Zbigniew Zamachowski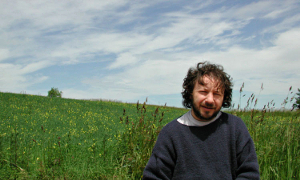 Actor's retrospective. Our guest will be Zbigniew Zamachowski, who is turning 50 in 2011. A remarkable theatre and film actor, an exquisite song interpreter and a great pianist, poet and composer.

A remarkable theatre and film actor, an exquisite song interpreter and a great pianist, poet and composer. He starred, among others, in the films of Kazimierz Kutz, Krzysztof Kieślowski, Andrzej Wajda, Jacek Borowski, Maciej Wojtyszka, Filip Bajon and Wojciech Marczewski. He has been repeatedly awarded in Poland and abroad.

Zbigniew Zamachowski (1961) The versatile artist – film and theater actor, song author, musician, poet. Zamachowski was born in 1961 in Brzeziny. He grew up in ninetieth century scenery, what – as he says – developed a special kind of sensitivity in him. After finishing music and technical school, Zamachowski studied at the Acting Faculty in Łódź. His theater debut was in 1983. Two years later cooperation with Jerzy Grzegorzewski and his Theater Studio begun. The beginning of Eighties also brought first film roles, among them film debut in "Grand Picnic" directed by Krzysztof Rogulski. Zamachowski always tried to develop all his talents equally: he performed at the actor's song reviews, won many awards (for example for the part of a pianist in Stanisław Trembecki's "Prodigal Son" directed by Adam Hanuszkiewicz 1985), and started to play regularly in television spectacles. A great popularity came in the Nineties, when, after excellent theater and film roles, Zamachowski took part in Magda Umer's "Big Zbig Show".

His admirers prepared a book entitled "Attack on Zamachowski" containing a comprehensive interview. The actor is a laureate of many prestigious awards (Aleksander Zelwerowicz Award 1993, Gdynia PFFF award for the role in "Diverted" directed by Kazimierz Kutz, 1994) and honor-awards like Distinguished Culture Activist in 1996. In the second half of the decade Zamachowski started playing in National Theater in Warsaw.

During the last ten years he didn't slow down the pace of work, still winning awards for his masterly work (for example Eagle Award for the role in "Squint Your Eyes") and playing intensively in theater and film (theater spectacles wit his friend Wojciech Malajkat, Gliński and Jakimowsk films).
Sebastian Smoliński
date:
31/07/2011
, time:
15:00
, place:
The Big Cinema
, film program:
and God created actor. Zbigniew Zamachowski
, artistic program:
films
date:
30/07/2011
, time:
12:30
, place:
The Silver Star Cinema
, film program:
and God created actor. Zbigniew Zamachowski
, artistic program:
films
date:
01/08/2011
, time:
09:45
, place:
The Big Cinema
, film program:
and God created actor. Zbigniew Zamachowski
, artistic program:
films
date:
05/08/2011
, time:
16:45
, place:
The Big Cinema
, film program:
and God created actor. Zbigniew Zamachowski
, artistic program:
films
date:
05/08/2011
, time:
16:45
, place:
The Big Cinema
, film program:
and God created actor. Zbigniew Zamachowski
, artistic program:
films
film program:
the audience poll
,
date:
04/08/2011
, time:
09:20
, place:
The Big Cinema
, film program:
and God created actor. Zbigniew Zamachowski
, artistic program:
films
date:
30/07/2011
, time:
12:30
, place:
The Silver Star Cinema
, film program:
and God created actor. Zbigniew Zamachowski
, artistic program:
films
date:
01/08/2011
, time:
09:45
, place:
The Big Cinema
, film program:
and God created actor. Zbigniew Zamachowski
, artistic program:
films
date:
02/08/2011
, time:
09:45
, place:
The Big Cinema
, film program:
and God created actor. Zbigniew Zamachowski
, artistic program:
films
date:
30/07/2011
, time:
09:30
, place:
The Silver Star Cinema
, film program:
and God created actor. Zbigniew Zamachowski
, artistic program:
theatre
date:
06/08/2011
, time:
09:30
, place:
The Silver Star Cinema
, film program:
and God created actor. Zbigniew Zamachowski
, artistic program:
theatre
date:
31/07/2011
, time:
09:30
, place:
The Silver Star Cinema
, film program:
and God created actor. Zbigniew Zamachowski
, artistic program:
theatre
date:
02/08/2011
, time:
09:30
, place:
The Silver Star Cinema
, film program:
and God created actor. Zbigniew Zamachowski
, artistic program:
theatre
date:
01/08/2011
, time:
09:30
, place:
The Silver Star Cinema
, film program:
and God created actor. Zbigniew Zamachowski
, artistic program:
theatre
date:
31/07/2011
, time:
21:00
, place:
SARP
, film program:
and God created actor. Zbigniew Zamachowski
, artistic program:
theatre